In an effort to signal boost the greater cerebral symposium on extreme metal's culturally valuable nuance we present an inspired and thoughtfully achieved review-centered podcast via the Death Metal Guy and the Black Metal Guy: The Terminus Extreme Metal Podcast. Having caught my ear and thrilled my brains enough with their first wave of episodes, I've requested to feature their work 'til they tell me to fuck off. The format is conversational but quite detailed and episodes run from 2-3 hours long via weekly formatted shows with review discussion and song clips alongside separate and intermittent 1-2 hour artist interviews.
---
"It's our final regular episode of the year, just one week until our long-awaited Terminus Year-End Show, and the revelation of the equally long-awaited Terminus Year-End Lists….
Today we've got two massive surprise releases for you, each a likely year-end pick for the guy bringing it to the table. The Death Metal Guy jump-starts the show with the agile and mind-bending melodigrind of Contrastic. They're cornerstones of the highly regarded Czech grindcore scene, but they haven't released a full-length record since 2000! So if you've never heard of them, or the Czech grind scene, don't worry – TDMG will fill you in.
The Black Metal Guy follows through with – you guessed it – the new Hate Forest record that's plummeting down from the aether on December 25. Since this review is out prior to the date, all we can sample for you is the public promo track, which we play in full. Without our usual ritual of sample-and-discuss, we're left wandering the vast Steppe of Opinions, as TBMG tries to convince TDMG that this *is* a significant development in the Hate Forest sound.
We close out with two fun, highly eccentric releases from opposite sides of the world. The Death Metal Guy introduces Montuln, a modern extreme metal band from the little-known Chilean scene. Montuln starts from the Swedish melodic BM/DM riffing style that's so popular today, but anchor it in a manly hard rock sensibility. Finally, The Black Metal Guy introduces Burkhartsvinter, noble – and evil – practitioners of ATGBM (Autistically True German Black Metal). If you like sword riffs, stomp riffs, maniacal energy, and a creative sense of musical time, this is the band for you. Merry Christmas and Good Yule from the both of us!*"
Contact: thetrueterminus@gmail.com
Support TERMINUS on PATREON: https://www.patreon.com/user?u=40900273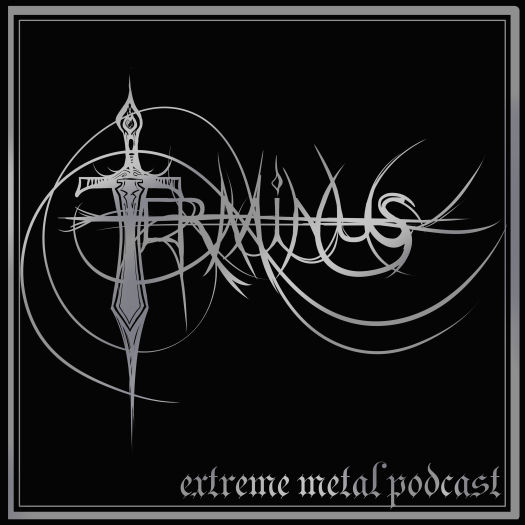 Terminus 35 – Vergeblichkeit, Haljoruna, Maquahuitl, Gates of Doom, Sagenland
–
TERMINUS: extreme metal podcast
"We invoke thee, Black Podcast of Chaos.We evoke thee, O mighty Terminus.Awaken now from your aeonic slumber – rise up from the abyss!Podcast of forgotten lore – let your Chaos rule forever more.Cohosts – Raise your double heads! Let your opinions…. rule again!"*And lo, we have answered your evocations, returned from the hoary winter's deep with a massive episode full of new ideas (!), common threads, jeremiads against hollow trends, and grandiose pronouncements about the future of black metal.To whet your palates for the new Ruins of Beverast, we begin with a highbrow Germanic solo project you probably haven't heard of — Vergeblichkeit. This is weirdly original music, like 80s goth rock built with "parts" from all over extreme metal, but structured in a way that draws your attention to the whole. It's music that takes time to digest, and you'll hear us getting more into it as the segment goes on.We pair that with the new full-length from Norse / Swedish folk-synth-black duo Haljoruna, in advance of its tape release on Old Mill Artifacts. The mood couldn't be more different from Vergeblichkeit, but there is a similar ambition at work. The Death Metal Guy waxes eloquent on Haljoruna's reconstruction of Scandinavian black metal from entirely new parts, and The Black Metal Guy frames it as an evolutionary adaptation to The Internet.In lieu of an interlude, we've crammed in a longer-than-intended mini-review of the new Maquahuitl EP. We play the lead song, "El Corrido de Gregorio Cortez," in its entirety. It's a short release, but a decisive moment in the history of USBM, and well worth your time.In Part II, we're back to somewhat more familiar waters. First, we check out of Gates of Doom, a stadium-sized melodic death/black band whose debut album tells the story of the Roman city Aquileia (located in their native north-Italian region of Friuli). There's obviously a lot to like about this album, but it awakens TBMG's hatred of the "polished melodic BM" trend, and he goes Full Metal Autist. Will TDMG be able to call him back from the edge of madness?We close out with a panoramic review of Oale Gruund, the debut by Sagenland, a (sort of) new band from the hart of the Dutch scene around Heidens Hart Records. Though TDMG really likes the riffs, he finds the songs as a whole difficult to get into. He voices his objections, TBMG voices his replies, and together we arrive at (what we think are) some pretty interesting ideas about musical "scale" and structure, and a better understanding of the Dutch sound as a whole.TL/DR we're back, feels good, check it out.00:00 – Introductory bullshitting09:30 – Vergeblichkeit – Die Almosen der Wunde (Independent)48:24 – Haljoruna – Haustblot (Old Mill Artifacts)**01:27:53 – Maquahuitl – Con Su Pistola en La Mano (digital and tape on Balamku / LP forthcoming on Goatowarex and Not Kvlt Records)01:55:27 – Gates of Doom – Aquileia Mater Aeterna (Cult of Parthenope)02:26:54 – Sagenland – Oale Gruund (Heidens Hart)03:10:37 – Thesyre – "The Cult of Victory," fr. Duality (CD by Selbstmord Services / LP by Blasphemous Underground Productions). FYI, this veteran Quebecois band is back from a decade-long break, and all their stuff is up on Bandcamp now (see album link).* Apologies to Dissection. R.I.C. Jon.** On the show we pronounce it "Hausblot" — we'd seen it spelled a couple different ways, but this is how it's spelled on the band's website.Terminus links:Terminus on YoutubeTerminus on PatreonTerminus on SubscribestarTerminus on InstagramTerminus on Facebookthetrueterminus@gmail.com
---
APPLE PODCASTS: https://podcasts.apple.com/us/podcast/terminus-extreme-metal-podcast/id1516219919
PODBAY: https://podbay.fm/p/terminus-extreme-metal-podcast
BLUBRRY: https://blubrry.com/terminus_extreme_metal/archive/?pi=1
---
<strong>Help Support Grizzly Butts' goals with a donation:</strong>
Please consider donating directly to site costs and project funding using PayPal.