In an effort to signal boost the greater cerebral symposium on extreme metal's culturally valuable nuance we present an inspired and thoughtfully achieved review-centered podcast via the Death Metal Guy and the Black Metal Guy: The Terminus Extreme Metal Podcast. Having caught my ear and thrilled my brains enough with their first wave of episodes, I've requested to feature their work 'til they tell me to fuck off. The format is conversational but quite detailed and episodes run from 2-3 hours long via weekly formatted shows with review discussion and song clips alongside separate and intermittent 1-2 hour artist interviews.
---
"Damn, well, it's the 30th installation of Terminus. That means 30 x 4 reviews / wk for a grand total of 120, plus a few 5-band shows and what we've started covering in Terminus News. Oh yeah, and the bonus episodes and interviews. At this point we're well out of The Shire, wandering towards Moria on our ill-advised quest to detonate the all-seeing Eye of professionally-credentialed metal journalism. And boy, do we have a show for you today, with a couple dark-horse last-minute candidates for year-end lists.
The Black Metal Guy leads off with two bands with Slavonic roots, both with pretty original takes on the idea of "black metal as heavy metal." Milwaukee's Prezir ("Scorn" or "Contempt" in Serbian) write ripping blackthrash songs shot through with floridly melodic machismo, and your hosts butt heads over exactly how to define it. Is Prezir the lordly scion of Ares Kingdom, or the underground answer to honest yeomanry like Skeletonwitch? Could it be both? We're more able to agree on Panychida, a veteran band from the mountain woods of southern Czechia. Though this record soars with the folk-black passion of a Drukdh or a Kroda, it often riffs like another beast entirely, with headbanging leads that'll make you want to slam 8 warm beers at a massive European festival.
In the second half we've got a dramatic, kinky role-reversal, as The Death Metal Guy answers with a brace of…. intensely Norsk BM bands?? He leads with some oddly faithful Unblack Metal from that hotbed of early Protestantism, the Netherlands. Duister Maanlicht revives a largely forgotten version of the one-man kvlt aesthetic, his hyper-minimal two-riff structures conjuring the bleakness of a forlorn winter shore. Finally, we're both left awestruck by the return of Norway's Gjendød, whose Angrep is a blistering and noble distillation of everything that made them — and the masters of the Second Wave — cool in the first place. Through this radical fidelity to origin, however, they've given form to something new and vital. The show culminates with TDMG waxing eloquent on Angrep's folkloric vision of the world, as TBMG sits back, grinning ear to ear."
Contact: thetrueterminus@gmail.com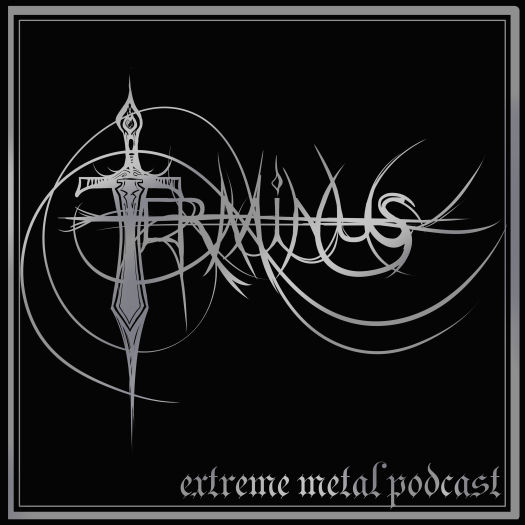 Terminus 35 – Vergeblichkeit, Haljoruna, Maquahuitl, Gates of Doom, Sagenland
–
TERMINUS: extreme metal podcast
"We invoke thee, Black Podcast of Chaos.We evoke thee, O mighty Terminus.Awaken now from your aeonic slumber – rise up from the abyss!Podcast of forgotten lore – let your Chaos rule forever more.Cohosts – Raise your double heads! Let your opinions…. rule again!"*And lo, we have answered your evocations, returned from the hoary winter's deep with a massive episode full of new ideas (!), common threads, jeremiads against hollow trends, and grandiose pronouncements about the future of black metal.To whet your palates for the new Ruins of Beverast, we begin with a highbrow Germanic solo project you probably haven't heard of — Vergeblichkeit. This is weirdly original music, like 80s goth rock built with "parts" from all over extreme metal, but structured in a way that draws your attention to the whole. It's music that takes time to digest, and you'll hear us getting more into it as the segment goes on.We pair that with the new full-length from Norse / Swedish folk-synth-black duo Haljoruna, in advance of its tape release on Old Mill Artifacts. The mood couldn't be more different from Vergeblichkeit, but there is a similar ambition at work. The Death Metal Guy waxes eloquent on Haljoruna's reconstruction of Scandinavian black metal from entirely new parts, and The Black Metal Guy frames it as an evolutionary adaptation to The Internet.In lieu of an interlude, we've crammed in a longer-than-intended mini-review of the new Maquahuitl EP. We play the lead song, "El Corrido de Gregorio Cortez," in its entirety. It's a short release, but a decisive moment in the history of USBM, and well worth your time.In Part II, we're back to somewhat more familiar waters. First, we check out of Gates of Doom, a stadium-sized melodic death/black band whose debut album tells the story of the Roman city Aquileia (located in their native north-Italian region of Friuli). There's obviously a lot to like about this album, but it awakens TBMG's hatred of the "polished melodic BM" trend, and he goes Full Metal Autist. Will TDMG be able to call him back from the edge of madness?We close out with a panoramic review of Oale Gruund, the debut by Sagenland, a (sort of) new band from the hart of the Dutch scene around Heidens Hart Records. Though TDMG really likes the riffs, he finds the songs as a whole difficult to get into. He voices his objections, TBMG voices his replies, and together we arrive at (what we think are) some pretty interesting ideas about musical "scale" and structure, and a better understanding of the Dutch sound as a whole.TL/DR we're back, feels good, check it out.00:00 – Introductory bullshitting09:30 – Vergeblichkeit – Die Almosen der Wunde (Independent)48:24 – Haljoruna – Haustblot (Old Mill Artifacts)**01:27:53 – Maquahuitl – Con Su Pistola en La Mano (digital and tape on Balamku / LP forthcoming on Goatowarex and Not Kvlt Records)01:55:27 – Gates of Doom – Aquileia Mater Aeterna (Cult of Parthenope)02:26:54 – Sagenland – Oale Gruund (Heidens Hart)03:10:37 – Thesyre – "The Cult of Victory," fr. Duality (CD by Selbstmord Services / LP by Blasphemous Underground Productions). FYI, this veteran Quebecois band is back from a decade-long break, and all their stuff is up on Bandcamp now (see album link).* Apologies to Dissection. R.I.C. Jon.** On the show we pronounce it "Hausblot" — we'd seen it spelled a couple different ways, but this is how it's spelled on the band's website.Terminus links:Terminus on YoutubeTerminus on PatreonTerminus on SubscribestarTerminus on InstagramTerminus on Facebookthetrueterminus@gmail.com
00:00 – Introductory bullshitting
01:56 – Terminus news ft. Spider God (Death Kvlt, release in Jan 20201) and Dyfliza (Rat King Records)
18:15 – Rundown of bands and labels
21:33 – Prezir – Depredation (Independent / tape on Dread Records)*
01:00:30 – Panychida – Gabreta Aeterna (Folter Records)
01:38:13 – Interlude – Die Saat – "Sonnenzglanz," fr. Niedergang (Independent, 2001 / Ewiges Eis, 2002)
01:45:58 – Duister Maanlicht – Over Zwarte Kunsten, Hekserij en Andere Dienaren van het Kwaad (Vision of God Records)
02:18:40 – Gjendød – Angrep (Hellthrasher Productions)
03:11:08 – Outro – Gjendød – "Når sårene er renset," fr. Krigsdøger (Darker than Black, 2018 / Hellthrasher, 2019)
Support TERMINUS on PATREON: https://www.patreon.com/user?u=40900273
---
APPLE PODCASTS: https://podcasts.apple.com/us/podcast/terminus-extreme-metal-podcast/id1516219919
PODBAY: https://podbay.fm/p/terminus-extreme-metal-podcast
BLUBRRY: https://blubrry.com/terminus_extreme_metal/archive/?pi=1
---
<strong>Help Support Grizzly Butts' goals with a donation:</strong>
Please consider donating directly to site costs and project funding using PayPal.