In an effort to signal boost the greater cerebral symposium on extreme metal's culturally valuable nuance we present an inspired and thoughtfully achieved review-centered podcast via the Death Metal Guy and the Black Metal Guy: The Terminus Extreme Metal Podcast. Having caught my ear and thrilled my brains enough with their first wave of episodes, I've requested to feature their work 'til they tell me to fuck off. The format is conversational but quite detailed and episodes run from 2-3 hours long via weekly formatted shows with review discussion and song clips alongside separate and intermittent 1-2 hour artist interviews.
---
"In Part I, the Black Metal Guy takes new releases from Germany's Azketem and England's mysterious Isenscur as examples of a sinister, "nocturnal" strain of paganish black metal, recalling the earliest days of the genre before the various themes were teased apart. Azketem conjures up moonlight mushroom journeys, while Isenscur sparks "holy fire" from fungally-infected grain.
In Part II, the Death Metal Guy takes us back to nowadays grit and misery. Hanging Fortress come out of Toledo, Ohio, and they play beatdown-driven hardcore songs with early-90s DM riffing — or is it the other way around?? — but not like you've heard it before! Should be of interest to death metal as well as hardcore people. And we close out with Glistening's left-field variant of anti-natalist DSBM, which cuts unusually powerful Finnblack riffs with jagged shards of straight-up indie rock and emo. This is one of TDMG's favorite releases this year, and a promising new project we'll be paying close attention to in future."
Contact: thetrueterminus@gmail.com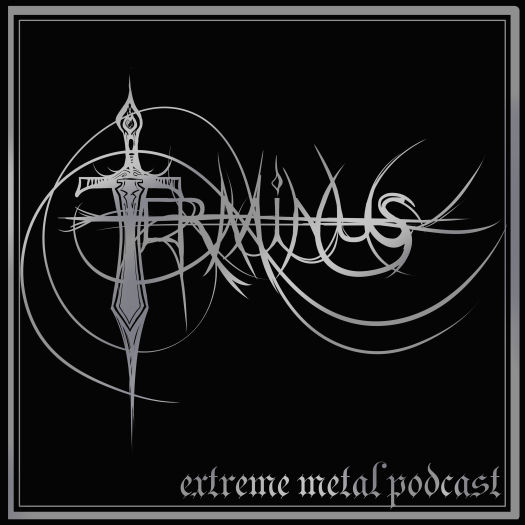 On Terminus 29, we named Pneuma Hagion's Voidgazer one of the best death metal albums – maybe the best death metal album – of 2020. On this special episode of Terminus, The Death Metal Guy sits down with his old friend R., core member of Pneuma Hagion (and Intestinal Disgorge, and The Howling Void, ad infinitum), to try and trace the origins of this record's blastbeat beatdown onslaught. R. reveals much about his recording and riffing process, and shares a wealth of extreme metal reference points. But as the interview unfolds, the details gather inward round a center. There stands R., listening, contemplating "the sublime nature" of things that hover just beyond the gateways of perception. 00:00 – Introductions01:45 – Evolution of Pneuma Hagion – what makes Voidgazer sound like an abyssal titan?17:50 – The Voidgazer / hardcore connection – why does it sound so much like beatdown?23:05 – Gateways to Annihilation – the influence of Morbid Angel and H.P. Lovecraft.30:41 – "The well where I draw the riffs" – origins of P.H.37:10 – Interlude – Pneuma Hagion – "Timeless Darkness," fr. Voidgazer (Nuclear War Now!)41:00 – Subsumption of the self – R on his many, many projects.47:34 – Working in the wake of "caverncore" – what is the difference between black and death metal?57:14 – Gazing onward – where does P.H. go from here?01:00:28 – Now listening – R shares what's on rotation.01:07:57 – Outro – Noisy Neighbors – "Dead Serious," fr. the Competitive Victimhood split w/ Shit Life (Independent, 2020) Terminus links:Terminus on YoutubeTerminus on PatreonTerminus on SubscribestarTerminus on InstagramTerminus on Facebookthetrueterminus@gmail.com
00:00 – Introductory bullshitting
02:48 – Terminus News ft. Sordid Crest and Doldrum
16:52 – Rundown of bands and labels
21:02 – Azketem – Inzernznytazure (Independent on BC / tape on Iron Bonehead)
59:43 – Isenscur – Asyndrath (Barghest / Maleficentissimus Triumphatus) Interlude – Verdunkeln – "Im Zwiespalt," fr. Einblick in den Qualenfall (Van Records, 2007). https://verdunkeln.bandcamp.com/album…
01:57:30 – Hanging Fortress – Darkness Devours (Redefining Darkness)
02:32:03 – Glistening – The Antinatalist (Extinctionist Records)
03:11:13 – Outro – Martyrdod – "List," fr. List (Southern Lord) https://martyrdoedsl.bandcamp.com/alb…
Support TERMINUS on PATREON: https://www.patreon.com/user?u=40900273
---
APPLE PODCASTS: https://podcasts.apple.com/us/podcast/terminus-extreme-metal-podcast/id1516219919
YOUTUBE: https://www.youtube.com/watch?v=u1BsottFViY
PODBAY: https://podbay.fm/p/terminus-extreme-metal-podcast
BLUBRRY: https://blubrry.com/terminus_extreme_metal/archive/?pi=1
---
<strong>Help Support Grizzly Butts' goals with a donation:</strong>
Please consider donating directly to site costs and project funding using PayPal.