In an effort to signal boost the greater cerebral symposium on extreme metal's culturally valuable nuance we present an inspired and thoughtfully achieved review-centered podcast via the Death Metal Guy and the Black Metal Guy: The Terminus Extreme Metal Podcast. Having caught my ear and thrilled my brains enough with their first wave of episodes, I've requested to feature their work 'til they tell me to fuck off. The format is conversational but quite detailed and episodes run from 2-3 hours long via weekly formatted shows with review discussion and song clips alongside separate and intermittent 1-2 hour artist interviews.
---
"If you've been with us since the beginning, congratulations, you're a half-year older and the world is still ending! It's our 26th regular episode and, quite by accident, one of our heaviest, most ambitious yet. The Death Metal Guy is going through some shit right now, so he's absolutely shitcanned throughout — but remarkably coherent!
We start off with a close listen to August's Ifernach / Pan-Amerikan Native Front split. This will probably be remembered as a landmark release, consolidating the burgeoning North American Native BM scene, and carving out the beginnings of a northern-Native sound. We find plenty to talk about as far as songwriting, but this opens out onto an epic conversation on the complexity of heritage in the "new world," and the possible convergence — both musical and spiritual — between bands with markedly Native and Euro American sounds.
We follow up with some ripping semi-melodic Azagthothian death metal from San Diego's Conjureth, out on the finely curated Fucking Kill! label. The Death Metal Guy thinks it's pretty cool, and The Black Metal Guy loves it. But why does it sound so fresh to him? TDMG drags a couple embarrassing confessions out of him….
Part 2 is a much darker affair. As we listen to the bleak and disorienting DSBM of Negative or Nothing, The Death Metal Guy connects with the music on a profoundly personal level. He ties the music of NoN back to his earliest attraction to depressive black metal, as well as cruelly abstract, blasting brutal death — metal rooted less in power and aggression than  in suffering and fear. Be warned, this gets extremely raw.*
The depressive atmosphere carries over into our last band, Australia's Dearthe, who play an original and promising sort of post-Slavic BM. They draw freely on ideas from death metal and post-hardcore, but not for a facile "update" to black metal fundamentals. Rather, this allows them to reawaken the storming grimness at the genre's core."
ADDENDUM: We didn't realize until after recording that Dearthe's main songwriter is Desolate: founder of Austere, longtime guitarist of Nazxul, and current frontman of Temple Nightside, among numerous other Australian bands. Vocalist Mordance played alongside him in Temple Nightside, and served as live drummer for Mongrel's Cross, whose new record is due out in November (you can expect a review here).
*And be assured, TDMG is still among the living, fighting onward as he always does.
Contact: thetrueterminus@gmail.com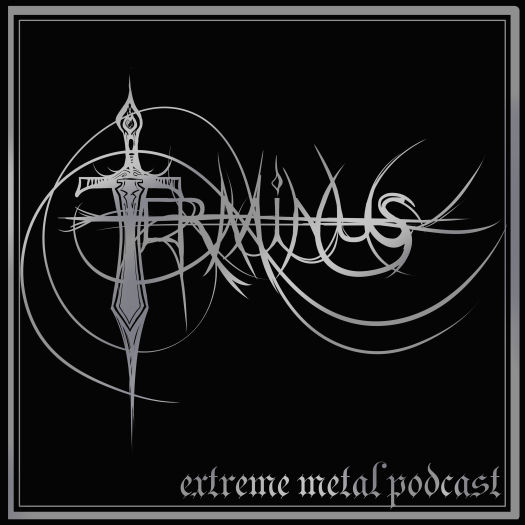 On Terminus 29, we named Pneuma Hagion's Voidgazer one of the best death metal albums – maybe the best death metal album – of 2020. On this special episode of Terminus, The Death Metal Guy sits down with his old friend R., core member of Pneuma Hagion (and Intestinal Disgorge, and The Howling Void, ad infinitum), to try and trace the origins of this record's blastbeat beatdown onslaught. R. reveals much about his recording and riffing process, and shares a wealth of extreme metal reference points. But as the interview unfolds, the details gather inward round a center. There stands R., listening, contemplating "the sublime nature" of things that hover just beyond the gateways of perception. 00:00 – Introductions01:45 – Evolution of Pneuma Hagion – what makes Voidgazer sound like an abyssal titan?17:50 – The Voidgazer / hardcore connection – why does it sound so much like beatdown?23:05 – Gateways to Annihilation – the influence of Morbid Angel and H.P. Lovecraft.30:41 – "The well where I draw the riffs" – origins of P.H.37:10 – Interlude – Pneuma Hagion – "Timeless Darkness," fr. Voidgazer (Nuclear War Now!)41:00 – Subsumption of the self – R on his many, many projects.47:34 – Working in the wake of "caverncore" – what is the difference between black and death metal?57:14 – Gazing onward – where does P.H. go from here?01:00:28 – Now listening – R shares what's on rotation.01:07:57 – Outro – Noisy Neighbors – "Dead Serious," fr. the Competitive Victimhood split w/ Shit Life (Independent, 2020) Terminus links:Terminus on YoutubeTerminus on PatreonTerminus on SubscribestarTerminus on InstagramTerminus on Facebookthetrueterminus@gmail.com
Support TERMINUS on PATREON: https://www.patreon.com/user?u=40900273
---
APPLE PODCASTS: https://podcasts.apple.com/us/podcast/terminus-extreme-metal-podcast/id1516219919
YOUTUBE: https://www.youtube.com/watch?v=tS7facOxWTg
PODBAY: https://podbay.fm/p/terminus-extreme-metal-podcast
BLUBRRY: https://blubrry.com/terminus_extreme_metal/archive/?pi=1
---
<strong>Help Support Grizzly Butts' goals with a donation:</strong>
Please consider donating directly to site costs and project funding using PayPal.