In an effort to signal boost the greater cerebral symposium on extreme metal's culturally valuable nuance we present an inspired and thoughtfully achieved review-centered podcast via the Death Metal Guy and the Black Metal Guy: The Terminus Extreme Metal Podcast. Having caught my ear and thrilled my brains enough with their first wave of episodes, I've requested to feature their work 'til they tell me to fuck off. The format is conversational but quite detailed and episodes run from 2-3 hours long via weekly formatted shows with review discussion and song clips alongside separate and intermittent 1-2 hour artist interviews.
---
"On this ripping new episode of Terminus, The Black Metal Guy and The Death Metal Guy run through a trio of new BM releases, from the polished to the raw to the utterly primitive, and some BM-friendly brutal death to boot.
We lead off with what is probably our favorite major-label release of the year – Hinsides Vrede by Sweden's Mörk Gryning, venerated ancestors back from the burial mound and stronger for it. This band starts from the Swedish Second Wave and sets it racing, gathering up forgotten 90s sounds and coming out ahead of younger bands. Next up is Sardonic Witchery, a Portuguese BM maniac transplanted to Texas. His thunderous low-end rock-BM shows his love of the genre as a whole, and a serious commitment to each of his musical ideas.
On the second half of the show we move into weirder territory. The Black Metal Guy brings the primordial Americana-black of Nihil Invocation. There's a lot about this aesthetic we like, but a lot we'd like to hear developed, too. Finally, The Death Metal Guy closes out with multinational project Molecular Fragmentation, who share members with Induced (see Terminus 13). This is the sort of whiplash brutal death that TBMG can really dig, and it leads us back to our ongoing conversation about death metal's future (see Terminus 20, 22). We read the portents, finding only fire and blood. Is "Brutal Death x War Metal" the next big thing?
Contact: thetrueterminus@gmail.com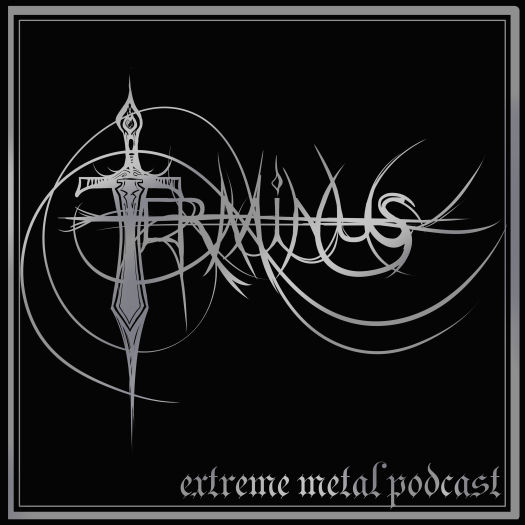 On Terminus 29, we named Pneuma Hagion's Voidgazer one of the best death metal albums – maybe the best death metal album – of 2020. On this special episode of Terminus, The Death Metal Guy sits down with his old friend R., core member of Pneuma Hagion (and Intestinal Disgorge, and The Howling Void, ad infinitum), to try and trace the origins of this record's blastbeat beatdown onslaught. R. reveals much about his recording and riffing process, and shares a wealth of extreme metal reference points. But as the interview unfolds, the details gather inward round a center. There stands R., listening, contemplating "the sublime nature" of things that hover just beyond the gateways of perception. 00:00 – Introductions01:45 – Evolution of Pneuma Hagion – what makes Voidgazer sound like an abyssal titan?17:50 – The Voidgazer / hardcore connection – why does it sound so much like beatdown?23:05 – Gateways to Annihilation – the influence of Morbid Angel and H.P. Lovecraft.30:41 – "The well where I draw the riffs" – origins of P.H.37:10 – Interlude – Pneuma Hagion – "Timeless Darkness," fr. Voidgazer (Nuclear War Now!)41:00 – Subsumption of the self – R on his many, many projects.47:34 – Working in the wake of "caverncore" – what is the difference between black and death metal?57:14 – Gazing onward – where does P.H. go from here?01:00:28 – Now listening – R shares what's on rotation.01:07:57 – Outro – Noisy Neighbors – "Dead Serious," fr. the Competitive Victimhood split w/ Shit Life (Independent, 2020) Terminus links:Terminus on YoutubeTerminus on PatreonTerminus on SubscribestarTerminus on InstagramTerminus on Facebookthetrueterminus@gmail.com
00:00 – Introductory bullshitting
02:01 – The Death Metal Guy shares a rehearsal track (from a BM band); The Black Metal Guy listens and critiques.
16:43 – Rundown of bands and labels
22:55 – Mörk Gryning – Hinsides Vrede (Season of Mist)
01:00:32 – Sardonic Witchery – Moonlight Sacrifice Ritual (War March Records/Niflhel Records/Warhemic Productions/Worship Tapes)
01:34:12 – Interlude – Morte Incandescente – "Black Skull Crushing Metal," fr. Coffin Desecrators (2005, GoatowaRex). Reissued by War Arts Productions, 2015. https://war-arts-productions.bandcamp…
01:38:39 – Nihil Invocation – Dead Seed Immersed in Glory (Asrar)
02:22:56 – Molecular Fragmentation – Unparalleled Fatal Collapse (Pathologically Explicit Recordings)
03:06:15 – Outro – Peter Warlock – "Pavane," fr. Capriol Suite (1926). Included on this great comp by EMI Classics. The Curlew, a song-cycle based on poems by Yeats, is another good one to check out. https://www.discogs.com/Peter-Warlock…
Support TERMINUS on PATREON: https://www.patreon.com/user?u=40900273
---
APPLE PODCASTS: https://podcasts.apple.com/us/podcast/terminus-extreme-metal-podcast/id1516219919
YOUTUBE: https://www.youtube.com/watch?v=LsM_mTY17qw
PODBAY: https://podbay.fm/p/terminus-extreme-metal-podcast
BLUBRRY: https://blubrry.com/terminus_extreme_metal/archive/?pi=1
---
<strong>Help Support Grizzly Butts' goals with a donation:</strong>
Please consider donating directly to site costs and project funding using PayPal.