In an effort to signal boost the greater cerebral symposium on extreme metal's culturally valuable nuance we present an inspired and thoughtfully achieved review-centered podcast via the Death Metal Guy and the Black Metal Guy: The Terminus Extreme Metal Podcast. Having caught my ear and thrilled my brains enough with their first wave of episodes, I've requested to feature their work 'til they tell me to fuck off. The format is conversational but quite detailed and episodes run from 2-3 hours long via weekly formatted shows with review discussion and song clips alongside separate and intermittent 1-2 hour artist interviews.
---
"At last, your daylong wait is rewarded with this sprawling and eclectic episode of Terminus. Today, we review not four, but *5* goddamn records back to back. We warm up with a special "Terminus reacts" segment on the new compilation of noise, industrial, and minimalist black metal by K.V.N.T. Kolektiv, longtime supporters of the show. Then, in a rare change of the marching order, The Death Metal Guy takes the helm for the leadoff band, Boston's Goratory. You'll hear TDMG introduce TBMG to the finer points of dizzying technical brutal death — with some wild melodic riffs thrown in — and explain what "New England death metal" even is. We roll on to the debut LP of Yersin, newcomers from England's savage North whose sound is difficult to pin down: Is it polished, catchy blackgrind? Is it the infamous "arena crust?" Is it beatdown with Immortal riffs? And where should they go from here?
In the second half, we return to the "post-Slav" territory we started mapping out in Episode 23, with a rather disputatious review of Toadeater. The Death Metal Guy once more begins with They Came From Visions, an interesting Ukrainian outfit that folds the post-black tendency back into the darker, storming side of their native sound. We talk over the skillful, forward-thinking songwriting, which allows this band to evoke some unexpected moods. Finally, The Black Metal Guy introduces a project that many of our fans will really dig, but may have passed over for subcultural reasons — Dressed In Streams, an American tribute to Indian revolutionaries that blends wild Indo-Slavic melody with rhythmic modern hardcore bite. Whatever our gripes about the presentation, the songwriting speaks for itself."
Contact: thetrueterminus@gmail.com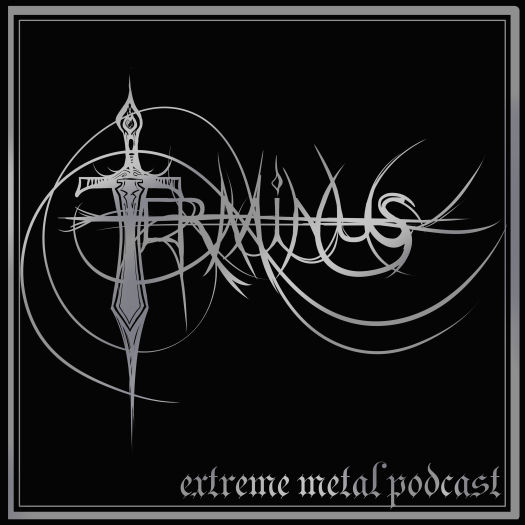 On Terminus 29, we named Pneuma Hagion's Voidgazer one of the best death metal albums – maybe the best death metal album – of 2020. On this special episode of Terminus, The Death Metal Guy sits down with his old friend R., core member of Pneuma Hagion (and Intestinal Disgorge, and The Howling Void, ad infinitum), to try and trace the origins of this record's blastbeat beatdown onslaught. R. reveals much about his recording and riffing process, and shares a wealth of extreme metal reference points. But as the interview unfolds, the details gather inward round a center. There stands R., listening, contemplating "the sublime nature" of things that hover just beyond the gateways of perception. 00:00 – Introductions01:45 – Evolution of Pneuma Hagion – what makes Voidgazer sound like an abyssal titan?17:50 – The Voidgazer / hardcore connection – why does it sound so much like beatdown?23:05 – Gateways to Annihilation – the influence of Morbid Angel and H.P. Lovecraft.30:41 – "The well where I draw the riffs" – origins of P.H.37:10 – Interlude – Pneuma Hagion – "Timeless Darkness," fr. Voidgazer (Nuclear War Now!)41:00 – Subsumption of the self – R on his many, many projects.47:34 – Working in the wake of "caverncore" – what is the difference between black and death metal?57:14 – Gazing onward – where does P.H. go from here?01:00:28 – Now listening – R shares what's on rotation.01:07:57 – Outro – Noisy Neighbors – "Dead Serious," fr. the Competitive Victimhood split w/ Shit Life (Independent, 2020) Terminus links:Terminus on YoutubeTerminus on PatreonTerminus on SubscribestarTerminus on InstagramTerminus on Facebookthetrueterminus@gmail.com
00:00 – Introductory bullshitting
05:00 – Terminus reacts to K.V.N.T. Kolektiv – Kovid 666 – K.V.N.T. Compilation 2020 (Kvnt Kolektiv)
26:52 – Rundown of bands and labels
31:52 – Goratory – Sour Grapes (Everlasting Spew Records)
01:10:14 – Yersin – Guilt (Independent) 01:48:37 – Interlude – Stormcrow – "Dead Dreams," fr. Stormcrow / Sanctum split (No Options, LP; 20 Buck Spin, CD). Available on the Stormcrow legacy Bandcamp. https://stormcrow.bandcamp.com/album/…
01:56:35 – They Came From Visions – Cloak of Darkness, Dagger of Night (Bloodred Distribution)
02:33:04 – Dressed in Streams – Swaraj: or, "Self Rule" (Colloquial Sound Recordings)*
03:17:24 – Outro – Reek of The Unzen Gas Fumes – "Dehumanizing Cesspool for Future of Humanity," fr. Reek of The Unzen Gas Fumes LP (GoatowaRex). Goatowa is now distributed by Ajna Offensive, but looks like they're already sold out. Honestly I have no idea where to find this. https://www.goatowarex.com/
Support TERMINUS on PATREON: https://www.patreon.com/user?u=40900273
---
APPLE PODCASTS: https://podcasts.apple.com/us/podcast/terminus-extreme-metal-podcast/id1516219919
YOUTUBE: https://www.youtube.com/watch?v=UlRkeV-vaOc
PODBAY: https://podbay.fm/p/terminus-extreme-metal-podcast
BLUBRRY: https://blubrry.com/terminus_extreme_metal/archive/?pi=1
---
<strong>Help Support Grizzly Butts' goals with a donation:</strong>
Please consider donating directly to site costs and project funding using PayPal.