In an effort to signal boost the greater cerebral symposium on extreme metal's culturally valuable nuance we present an inspired and thoughtfully achieved review-centered podcast via the Death Metal Guy and the Black Metal Guy: The Terminus Extreme Metal Podcast. Having caught my ear and thrilled my brains enough with their first wave of episodes, I've requested to feature their work 'til they tell me to fuck off. The format is conversational but quite detailed and episodes run from 2-3 hours long via weekly formatted shows with review discussion and song clips alongside separate and intermittent 1-2 hour artist interviews.
---
"On this week's full-throttle, three-hour marathon episode of Terminus, we come face to face with some of the black metal questions that have haunted us from the beginning of the show.
The Black Metal Guy begins with Denmark's Ildskær and Quebec's Cimetière, both of whom draw on the beloved "Franco-Finnish" guitar style. Is this smoothly-flowing, epic riff-form too dominant for its own good? And if so, what's the way out? Ildskær answers this quandary by adapting the F.F. riff to a uniquely Danish sensibility. Cimetière does the same, but for French Canada. We love both these records, and in the course of discussion we range from the rise of the nowadays Danish scene to some unexpected links between black metal and '77 punk.
On Part II, The Death Metal Guy introduces Elcrost, a young and very promising "Gothic extreme metal" band from Vietnam. They work uphill against a limited recording setup to write intricate, thoughtfully composed songs. And when the formula works, it really works!
At last, we turn to Germany's Toadeater, and this brings us to the big one — the post-black question! — in what may be our most contentious segment yet. TDMG and TBMG debate whether this record is black metal or post-black, whether it's good or terrible, and where music like this falls in the direction of the genre as a whole. Lurking behind it all is the towering specter of Mgla. How has this single band reshaped the field of black metal, and how should up-and-coming bands respond? Where does originality come from, and how? You don't wanna miss this one!!"
Contact: thetrueterminus@gmail.com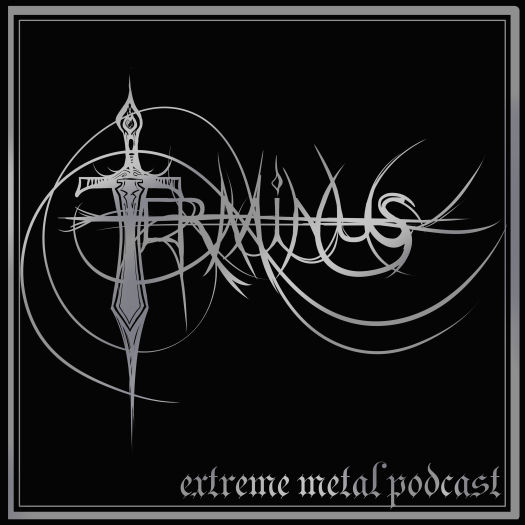 Terminus Episode 24 – K.V.N.T. Kolektiv, Goratory, Yersin, They Came From Visions, Dressed In Streams
–
TERMINUS: extreme metal podcast
At last, your daylong wait is rewarded with this sprawling and eclectic episode of Terminus. Today, we review not four, but *5* goddamn records back to back. We warm up with a special "Terminus reacts" segment on the new compilation of noise, industrial, and minimalist black metal by K.V.N.T. Kolektiv, longtime supporters of the show. Then, in a rare change of the marching order, The Death Metal Guy takes the helm for the leadoff band, Boston's Goratory. You'll hear TDMG introduce TBMG to the finer points of dizzying technical brutal death — with some wild melodic riffs thrown in — and explain what "New England death metal" even is. We roll on to the debut LP of Yersin, newcomers from England's savage North whose  sound is difficult to pin down: Is it polished, catchy blackgrind? Is it the infamous "arena crust?" Is it beatdown with Immortal riffs? And where should they go from here?In the second half, we return to the "post-Slav" territory we started mapping out in Episode 23, with a rather disputatious review of Toadeater. The Death Metal Guy once more begins with They Came From Visions, an interesting Ukrainian outfit that folds the post-black tendency back into the darker, storming side of their native sound. We talk over the skillful, forward-thinking songwriting, which allows this band to evoke some unexpected moods. Finally, The Black Metal Guy introduces a project that many of our fans will really dig, but may have passed over for subcultural reasons — Dressed In Streams, an American tribute to Indian revolutionaries that blends wild Indo-Slavic melody with rhythmic modern hardcore bite. Whatever our gripes about the presentation, the songwriting speaks for itself. 00:00 – Introductory bullshitting05:00 – Terminus reacts to K.V.N.T. Kolektiv – Kovid 666 – K.V.N.T. Compilation 2020 (Kvnt Kolektiv)26:52 – Rundown of bands and labels31:52 – Goratory – Sour Grapes (Everlasting Spew Records)01:10:14 – Yersin – Guilt (Independent)01:48:37 – Interlude – Stormcrow – "Dead Dreams," fr. Stormcrow / Sanctum split (No Options, LP; 20 Buck Spin, CD). Available on the Stormcrow legacy Bandcamp.01:56:35 – They Came From Visions – Cloak of Darkness, Dagger of Night (Bloodred Distribution)02:33:04 – Dressed in Streams – Swaraj: or, "Self Rule" (Colloquial Sound Recordings)*03:17:24 – Outro – Reek of The Unzen Gas Fumes – "Dehumanizing Cesspool for Future of Humanity," fr. Reek of The Unzen Gas Fumes LP (GoatowaRex). Goatowa is now distributed by Ajna Offensive, but looks like they're already sold out. Honestly I have no idea where to find this. *The Indian band whose name I totally mangle is Aparthiva Raktadhara, members of the Kolkata Inner Order along with Tetragrammacide and Kapala. Here's their excellent demo, and here's their extremely NSFW video, ft. real contemporary paganism — not exactly a Heilung music video, is it?Terminus links:Terminus on YoutubeTerminus on PatreonTerminus on SubscribestarTerminus on InstagramTerminus on Facebookthetrueterminus@gmail.com
Support TERMINUS on PATREON: https://www.patreon.com/user?u=40900273
---
APPLE PODCASTS: https://podcasts.apple.com/us/podcast/terminus-extreme-metal-podcast/id1516219919
YOUTUBE: https://www.youtube.com/watch?v=gPzNMPiAsUU
PODBAY: https://podbay.fm/p/terminus-extreme-metal-podcast
BLUBRRY: https://blubrry.com/terminus_extreme_metal/archive/?pi=1
---
<strong>Help Support Grizzly Butts' goals with a donation:</strong>
Please consider donating directly to site costs and project funding using PayPal.