In an effort to signal boost the greater cerebral symposium on extreme metal's culturally valuable nuance we present an inspired and thoughtfully achieved review-centered podcast via the Death Metal Guy and the Black Metal Guy: The Terminus Extreme Metal Podcast. Having caught my ear and thrilled my brains enough with their first wave of episodes, I've requested to feature their work 'til they tell me to fuck off. The format is conversational but quite detailed and episodes run from 2-3 hours long via weekly formatted shows with review discussion and song clips alongside separate and intermittent 1-2 hour artist interviews.
---
"On this fine new episode of Terminus, we focus on a trio of bands returning to pre-00's roots, reactivating the potential of ancestral styles. And then…. as always…. some brutal death!
In the first half of the show, we focus on two bands formed by honored veterans of their respective scenes. The Black Metal Guy leads off with Sweden's Trident, descended from Dissection and Lord Belial, now returning from a decade's hoary slumber. They've chiseled out a mountain of a record, cut from the old stone with a new shape! We study their synthesis of two late-90s sounds that have rarely been successfully imitated, let alone integrated, and talk over where they could go from here. Not to be outdone, The Death Metal Guy counters with Poland's Mysthicon, composed of members of Vader, Hate, Batushka, and Lux Occulta. This record hearkens back to a forgotten constellation of gloomy gothic-fantasy bands from across the spectrum of 90s extremity. At first we don't know what to make of it, but as the show goes on, it works its strange spell…
In the second half of the show, it's back to our usual roster of deep-underground projects. The Black Metal Guy returns to his icy onslaught with Panzerwar's Warlord, a reverent reawakening of the True Norwegian Black Metal — with a rabid spirit rooted in early demos and hardcore punk. You think you've heard this before, but you haven't! Finally, The Death Metal Guy spins the globe to sunny Andalusia, where two mad motherfuckers with gnarly punk piercings make basement-shaking, dungeon-rattling brutal death. Encephalic has a surprisingly melodic, textural approach to a sound that's often full frontal eardrum demolition (see last week's bit on Insalubrity) — could this be the future of real death metal?"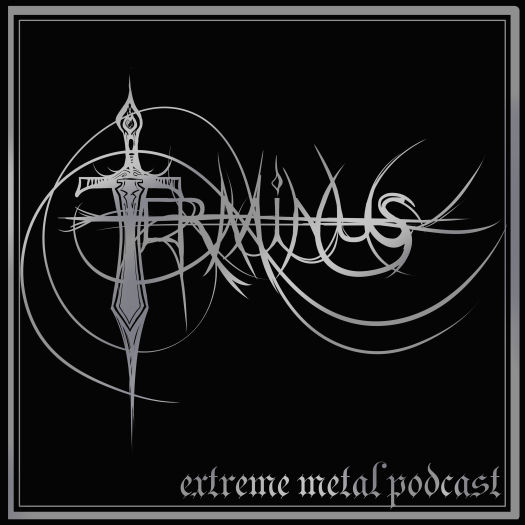 Terminus Episode 24 – K.V.N.T. Kolektiv, Goratory, Yersin, They Came From Visions, Dressed In Streams
–
TERMINUS: extreme metal podcast
At last, your daylong wait is rewarded with this sprawling and eclectic episode of Terminus. Today, we review not four, but *5* goddamn records back to back. We warm up with a special "Terminus reacts" segment on the new compilation of noise, industrial, and minimalist black metal by K.V.N.T. Kolektiv, longtime supporters of the show. Then, in a rare change of the marching order, The Death Metal Guy takes the helm for the leadoff band, Boston's Goratory. You'll hear TDMG introduce TBMG to the finer points of dizzying technical brutal death — with some wild melodic riffs thrown in — and explain what "New England death metal" even is. We roll on to the debut LP of Yersin, newcomers from England's savage North whose  sound is difficult to pin down: Is it polished, catchy blackgrind? Is it the infamous "arena crust?" Is it beatdown with Immortal riffs? And where should they go from here?In the second half, we return to the "post-Slav" territory we started mapping out in Episode 23, with a rather disputatious review of Toadeater. The Death Metal Guy once more begins with They Came From Visions, an interesting Ukrainian outfit that folds the post-black tendency back into the darker, storming side of their native sound. We talk over the skillful, forward-thinking songwriting, which allows this band to evoke some unexpected moods. Finally, The Black Metal Guy introduces a project that many of our fans will really dig, but may have passed over for subcultural reasons — Dressed In Streams, an American tribute to Indian revolutionaries that blends wild Indo-Slavic melody with rhythmic modern hardcore bite. Whatever our gripes about the presentation, the songwriting speaks for itself. 00:00 – Introductory bullshitting05:00 – Terminus reacts to K.V.N.T. Kolektiv – Kovid 666 – K.V.N.T. Compilation 2020 (Kvnt Kolektiv)26:52 – Rundown of bands and labels31:52 – Goratory – Sour Grapes (Everlasting Spew Records)01:10:14 – Yersin – Guilt (Independent)01:48:37 – Interlude – Stormcrow – "Dead Dreams," fr. Stormcrow / Sanctum split (No Options, LP; 20 Buck Spin, CD). Available on the Stormcrow legacy Bandcamp.01:56:35 – They Came From Visions – Cloak of Darkness, Dagger of Night (Bloodred Distribution)02:33:04 – Dressed in Streams – Swaraj: or, "Self Rule" (Colloquial Sound Recordings)*03:17:24 – Outro – Reek of The Unzen Gas Fumes – "Dehumanizing Cesspool for Future of Humanity," fr. Reek of The Unzen Gas Fumes LP (GoatowaRex). Goatowa is now distributed by Ajna Offensive, but looks like they're already sold out. Honestly I have no idea where to find this. *The Indian band whose name I totally mangle is Aparthiva Raktadhara, members of the Kolkata Inner Order along with Tetragrammacide and Kapala. Here's their excellent demo, and here's their extremely NSFW video, ft. real contemporary paganism — not exactly a Heilung music video, is it?Terminus links:Terminus on YoutubeTerminus on PatreonTerminus on SubscribestarTerminus on InstagramTerminus on Facebookthetrueterminus@gmail.com
00:00 – Introductory bullshitting / rundown of bands and labels
09:13 – Trident – North (Non Serviam)
48:18 – Mysthicon – Silva – Oculis – Corvi (Witching Hour Productions)
01:24:05 – Interlude – Behemoth – "Wolves Guard My Coffin," fr. Svantevith (Storming Near The Baltic) (Pagan Records, 1995). 2018 LP reissue by Back on Black available from Plastichead: https://www.plastichead.com/item.aspx…
01:29:19 – Panzerwar – Warlord (Cold Sword Productions / Kult of Belial Records)
02:10:10 – Encephalic – Exalted Perversity (Sevared Records)
02:27:42 – Trident, "North," fr. North (see above): https://non-serviam-records.bandcamp….
Support TERMINUS on PATREON: https://www.patreon.com/user?u=40900273
---
APPLE PODCASTS: https://podcasts.apple.com/us/podcast/terminus-extreme-metal-podcast/id1516219919
YOUTUBE: https://www.youtube.com/watch?v=QK5sCR8rgGo
PODBAY: https://podbay.fm/p/terminus-extreme-metal-podcast
BLUBRRY: https://blubrry.com/terminus_extreme_metal/archive/?pi=1
---
<strong>Help Support Grizzly Butts' goals with a donation:</strong>
Please consider donating directly to site costs and project funding using PayPal.