In an effort to signal boost the greater cerebral symposium on extreme metal's culturally valuable nuance we present an inspired and thoughtfully achieved review-centered podcast via the Death Metal Guy and the Black Metal Guy: The Terminus Extreme Metal Podcast. Having caught my ear and thrilled my brains enough with their first wave of episodes, I've requested to feature their work 'til they tell me to fuck off. The format is conversational but quite detailed and episodes run from 2-3 hours long via weekly formatted shows with review discussion and song clips alongside separate and intermittent 1-2 hour artist interviews.
---
"Right after recording the Serpent Column interview, we hurled ourselves into Episode 21.
We lead off with a vast, majestic 50-minute review of Into Oblivion's vast, majestic new EP, Winds of Serpentine Ascension. If you've wanted to hear a whole new style of riffing and song-construction, pointing death and black metal toward a glorious New Dark Age, this is it. It's one of the most important records to come out this year, and issues the same challenge issued by Serpent Column — to make metal that parts the swirling wind and fog, bringing forth a higher, more abundant mode of life. And with that out of the way, we're onto Finland: Sammas' Equinox took four years refining their eccentric, esoteric-pagan black metal before releasing a full-length, and The Black Metal Guy is stoked to see how it turned out. We talk over the record's formidable high points, and meditate on the balance between wizard and warrior aesthetics.
The second half of the show sees The Death Metal Guy at full Death Metal Guy. He leads off with Insalubrity's foul breed of brutal death, full of pinch harmonics and slippery trem. The Black Metal Guy has been learning to listen to this sort of thing — but will this one be a bridge too far?? To close out, TDMG brings a sick new find we can all agree on: sombre Swedish death metal about tanks. Just Before Dawn nimbly dodge the "retro Swedeath" trap by lining up an unexpected set of influences, and following an invisible through-line. Two of these are bands we mention all the time on this show…"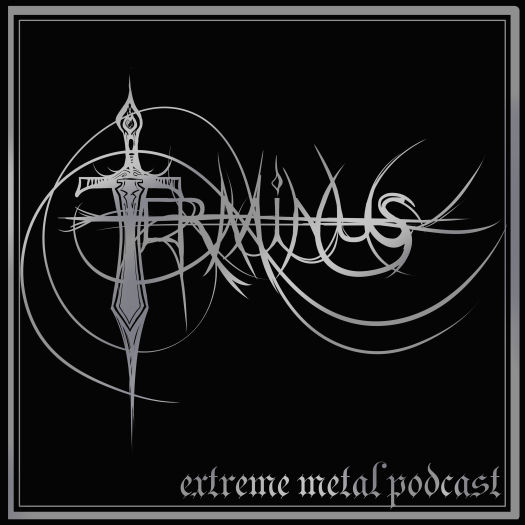 Terminus Episode 24 – K.V.N.T. Kolektiv, Goratory, Yersin, They Came From Visions, Dressed In Streams
–
TERMINUS: extreme metal podcast
At last, your daylong wait is rewarded with this sprawling and eclectic episode of Terminus. Today, we review not four, but *5* goddamn records back to back. We warm up with a special "Terminus reacts" segment on the new compilation of noise, industrial, and minimalist black metal by K.V.N.T. Kolektiv, longtime supporters of the show. Then, in a rare change of the marching order, The Death Metal Guy takes the helm for the leadoff band, Boston's Goratory. You'll hear TDMG introduce TBMG to the finer points of dizzying technical brutal death — with some wild melodic riffs thrown in — and explain what "New England death metal" even is. We roll on to the debut LP of Yersin, newcomers from England's savage North whose  sound is difficult to pin down: Is it polished, catchy blackgrind? Is it the infamous "arena crust?" Is it beatdown with Immortal riffs? And where should they go from here?In the second half, we return to the "post-Slav" territory we started mapping out in Episode 23, with a rather disputatious review of Toadeater. The Death Metal Guy once more begins with They Came From Visions, an interesting Ukrainian outfit that folds the post-black tendency back into the darker, storming side of their native sound. We talk over the skillful, forward-thinking songwriting, which allows this band to evoke some unexpected moods. Finally, The Black Metal Guy introduces a project that many of our fans will really dig, but may have passed over for subcultural reasons — Dressed In Streams, an American tribute to Indian revolutionaries that blends wild Indo-Slavic melody with rhythmic modern hardcore bite. Whatever our gripes about the presentation, the songwriting speaks for itself. 00:00 – Introductory bullshitting05:00 – Terminus reacts to K.V.N.T. Kolektiv – Kovid 666 – K.V.N.T. Compilation 2020 (Kvnt Kolektiv)26:52 – Rundown of bands and labels31:52 – Goratory – Sour Grapes (Everlasting Spew Records)01:10:14 – Yersin – Guilt (Independent)01:48:37 – Interlude – Stormcrow – "Dead Dreams," fr. Stormcrow / Sanctum split (No Options, LP; 20 Buck Spin, CD). Available on the Stormcrow legacy Bandcamp.01:56:35 – They Came From Visions – Cloak of Darkness, Dagger of Night (Bloodred Distribution)02:33:04 – Dressed in Streams – Swaraj: or, "Self Rule" (Colloquial Sound Recordings)*03:17:24 – Outro – Reek of The Unzen Gas Fumes – "Dehumanizing Cesspool for Future of Humanity," fr. Reek of The Unzen Gas Fumes LP (GoatowaRex). Goatowa is now distributed by Ajna Offensive, but looks like they're already sold out. Honestly I have no idea where to find this. *The Indian band whose name I totally mangle is Aparthiva Raktadhara, members of the Kolkata Inner Order along with Tetragrammacide and Kapala. Here's their excellent demo, and here's their extremely NSFW video, ft. real contemporary paganism — not exactly a Heilung music video, is it?Terminus links:Terminus on YoutubeTerminus on PatreonTerminus on SubscribestarTerminus on InstagramTerminus on Facebookthetrueterminus@gmail.com
00:00 – Introductory bullshitting / rundown of bands and labels
11:13 – Into Oblivion – Winds of Serpentine Ascension (Hessian Firm)
01:01:37 – Sammas' Equinox – Tulikehrat (Signal Rex)
01:29:11 – Interlude – Miserycore, "Merciless March," fr. the Civilization Torture demo (Pure War, 2005). Looks like Invictus distro has a CD reissue in stock: https://invictusproductions.net/shop/…
01:34:14 – Insalubrity – Salacious Putrescent Psychopathy (New Standard Elite)
02:05:00 – Just Before Dawn – An Army At Dawn (Raw Skull Recordz)
02:29:18 – Grundhyrde, "Triumph Through The Hordes," fr. as-yet-unreleased material. Check the Grundhyrde / Klagesturm split (sold out) on Greg Biehl's channel: https://youtu.be/6NglRnndpeY
Support TERMINUS on PATREON: https://www.patreon.com/user?u=40900273
---
APPLE PODCASTS: https://podcasts.apple.com/us/podcast/terminus-extreme-metal-podcast/id1516219919
YOUTUBE: https://www.youtube.com/watch?v=QK5sCR8rgGo
PODBAY: https://podbay.fm/p/terminus-extreme-metal-podcast
BLUBRRY: https://blubrry.com/terminus_extreme_metal/archive/?pi=1
---
<strong>Help Support Grizzly Butts' goals with a donation:</strong>
Please consider donating directly to site costs and project funding using PayPal.