In an effort to signal boost the greater cerebral symposium on extreme metal's culturally valuable nuance we present an inspired and thoughtfully achieved review-centered podcast via the Death Metal Guy and the Black Metal Guy: The Terminus Extreme Metal Podcast. Having caught my ear and thrilled my brains enough with their first wave of episodes, I've requested to feature their work in aeternum or until they tell me to fuck off. The format is conversational but quite detailed and episodes run from 2-3 hours long via weekly formatted shows with review discussion and song clips alongside separate and intermittent 1-2 hour artist interviews.
---
After two episodes of virtually nothing but sword-and/or-sorcery-oriented pagan black metal (no bad thing!), we're back to a more eclectic lineup. The Death Metal Guy sets the tone with a couple great choices, both black metal bands remaining faithful to the basic impulse of the genre while pushing toward weird new horizons — exactly the kind of originality we want to promote. Meslamtaea (ft. mem. of Asgrauw) blends the windswept Northsea melodies of traditional Dutch BM with authentic screamo and post-punk, seeking traces of green growth in the 21c city. Cultum Interitum (ft. mem. of Lunar Ascension??) bring the ugliness and evil back to BM, stripping it down to a skeleton and making the bones dance — a ghastly, lurching march through Satanic industrial wastes.
In Part II, The Black Metal Guy checks up on two promising bands that last released full-lengths in 2017. First is the young Norwegian band Hymn, who play rhythmically dynamic extreme sludge. We've virtually ignored sludge so far, and this gives us a chance to talk over the perils and potentials of the genre. Last but definitely not least is Dumal, who've taken their sweet time distilling triumphant Norse and Finnish BM into 100-proof Pennsylvanian forest riffs. The Terminus USBM squad will want to check this one out for sure!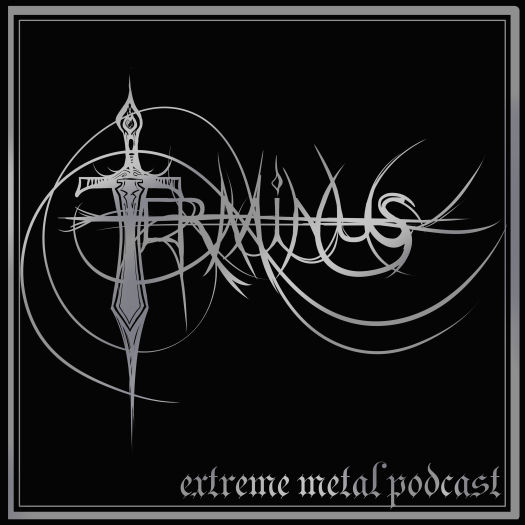 Terminus Episode 19 – Evaporated Sores, Dephosphorus, Katavasia, Sale Freux
–
TERMINUS: extreme metal podcast
On this week's Terminus, we bring you some properly gnarly and eccentric sounds, punctuated by what may be the most catchy, accessible record we've yet covered. And as with Ep. 17, the whole batch gets the Terminus seal of approval!The Death Metal Guy leads off with Evaporated Sores' industrial-grade skronk attack, a serious bid to up the ante in the extremity wars. These guys play all the wrong notes in all the right ways, with an open-form approach to writing that makes a virtue of collapse. The Black Metal Guy answers with Dephosphorus, a long-running Athens band who push their self-created subgenre, 'astrogrind',  toward its most epic, atmospheric potentials — without compromising on sick riffs.And the Greek streak continues with Katavasia (ft. mem. of Varathron), whose Magnus Venator may be the ultimate Hellenic BM party record, fully embracing the scene's proud heavy metal roots without forsaking core black metal riffing and belief. Finally, in the longest segment of the day, your hosts wander through the windy, rainsoaked fields of Sale Freux's native Brittany, clinging for dear life to bottles of cheap booze, and loving every second of it. Melancholy tremolo abounds, and the ravens flock to the eerie sound.00:00 – Introductory bullshitting / rundown of bands and labels12:46 – Evaporated Sores – Ulcerous Dimensions (Sentient Ruin Laboratories)51:39 – Dephosphorus – Sublimation (Nerve Altar, 7Degrees Records, Selfmadegod)01:23:20 – Interlude – Antigama, "Division of Lonely Crows," fr. Depressant (Selfmadegod)01:26:09 – Katavasia – Magnus Venator (Floga Records)02:04:03 – Sale Freux – Le Dernier Corbeau Du Monde (France d'Oïl Productions)02:50:45 – Outro – Mutiilation, "To The Memory of The Dark Countess," fr. Remains of a Ruined, Dead, Cursed Soul (reissued by Osmose)Terminus on YoutubeTerminus on PatreonTerminus on Subscribestar

00:00 – Introductory bullshitting / thanks to Grizzly Butts et al. / rundown of bands and labels
12:24 – Meslamtaea – Geketend in de Schaduw van het Leven (Babylon Doom Cult Records)
55:32 – Cultum Interitum – Poison of Being (Godz of War)
01:21:05 – Interlude – Archgoat – "Whore of Bethlehem," fr. Whore of Bethlehem, reissued most recently on Debemur Morti.
01:25:25 – Hymn – Breach Us (Fysisk Format)
01:57:44 – Dumal – The Confessor (Folkvangr/Vigor Deconstruct)
02:34:40 – Outro – Bak De Syv Fjell – "From Haavardstun," fr. From Haavardstun EP, available digitally from the original label, Edged Circle Productions in Norway.
Support TERMINUS on PATREON: https://www.patreon.com/user?u=40900273
---
APPLE PODCASTS: https://podcasts.apple.com/us/podcast/terminus-extreme-metal-podcast/id1516219919
YOUTUBE: https://www.youtube.com/watch?v=4Jr6j_ITUnU
PODBAY: https://podbay.fm/p/terminus-extreme-metal-podcast
BLUBRRY: https://blubrry.com/terminus_extreme_metal/archive/?pi=1
---
<strong>Help Support Grizzly Butts' goals with a donation:</strong>
Please consider donating directly to site costs and project funding using PayPal.