In an effort to signal boost the greater cerebral symposium on extreme metal's culturally valuable nuance we present an inspired and thoughtfully achieved review-centered podcast via the Death Metal Guy and the Black Metal Guy: The Terminus Extreme Metal Podcast. Having caught my ear and thrilled my brains enough with their first wave of episodes, I've requested to feature their work in aeternum or until they tell me to fuck off. The format is conversational but quite detailed and episodes run from 2-3 hours long weekly formatted shows with review discussion and song clips alongside separate and intermittent 1-2 hour artist interviews. This first post brings to light their first sixteen episodes.
---
This week on Terminus, we continue reaping this fall's bumper crop of pagan black metal, punctuated by some extremely catchy brutal death. And it's one of those rare shows where we both really like every record!
We start by singing the praises of the new Macabre Omen, which easily transcends its unusual format — one vast but tightly-woven epic, plus a bunch of tracks from raw 90s demos and splits you almost certainly haven't heard. You'll hear missing links to the early Hellenic scene, strange relics of Nordic influence, and forays into psychedelic pastures — all still as bright as they day they were forged. After this sprawling, Bathorian segment, The Death Metal Guy leads us through Nihil Obstat's catchy, streamlined evolution of early-00s Colombian brutal death. The songwriting here is killer, and it's more like Greek black metal than you might think….
On Part II, it's all Slavonic spellcraft and Swedish steel. We start with a fan submission of sorts — the debut of Ikotka (Икотка), from the wilds of the Ural Mountains in northeastern Russia. Their actually-ritual summoning songs draw freely from Russian, Ukrainian, and Polish sounds, but don't really sound like any of them. Finally, we close with the return of Svederna, who don the grim hauberk of full-spectrum 90s black metal, striving for the title of Most Swedish Band of All Time. This is the chance The Black Metal Guy has been waiting for to sperg out about forgotten late-90s Svensk BM, and especially one of his all-time favorite bands.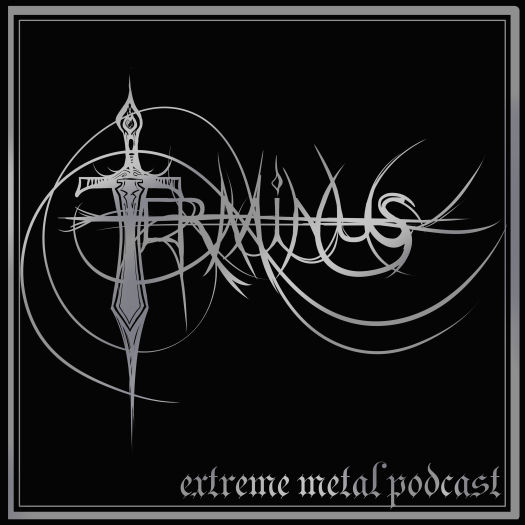 Terminus Episode 19 – Evaporated Sores, Dephosphorus, Katavasia, Sale Freux
–
TERMINUS: extreme metal podcast
On this week's Terminus, we bring you some properly gnarly and eccentric sounds, punctuated by what may be the most catchy, accessible record we've yet covered. And as with Ep. 17, the whole batch gets the Terminus seal of approval!The Death Metal Guy leads off with Evaporated Sores' industrial-grade skronk attack, a serious bid to up the ante in the extremity wars. These guys play all the wrong notes in all the right ways, with an open-form approach to writing that makes a virtue of collapse. The Black Metal Guy answers with Dephosphorus, a long-running Athens band who push their self-created subgenre, 'astrogrind',  toward its most epic, atmospheric potentials — without compromising on sick riffs.And the Greek streak continues with Katavasia (ft. mem. of Varathron), whose Magnus Venator may be the ultimate Hellenic BM party record, fully embracing the scene's proud heavy metal roots without forsaking core black metal riffing and belief. Finally, in the longest segment of the day, your hosts wander through the windy, rainsoaked fields of Sale Freux's native Brittany, clinging for dear life to bottles of cheap booze, and loving every second of it. Melancholy tremolo abounds, and the ravens flock to the eerie sound.00:00 – Introductory bullshitting / rundown of bands and labels12:46 – Evaporated Sores – Ulcerous Dimensions (Sentient Ruin Laboratories)51:39 – Dephosphorus – Sublimation (Nerve Altar, 7Degrees Records, Selfmadegod)01:23:20 – Interlude – Antigama, "Division of Lonely Crows," fr. Depressant (Selfmadegod)01:26:09 – Katavasia – Magnus Venator (Floga Records)02:04:03 – Sale Freux – Le Dernier Corbeau Du Monde (France d'Oïl Productions)02:50:45 – Outro – Mutiilation, "To The Memory of The Dark Countess," fr. Remains of a Ruined, Dead, Cursed Soul (reissued by Osmose)Terminus on YoutubeTerminus on PatreonTerminus on Subscribestar
00:00 – Introductory bullshitting / social media plug / rundown of bands and labels
12:57 – Macabre Omen – Anamneses (Van Records)
55:56 – Nihil Obstat – Antimatter (Rotten Cemetery Records)
01:26:26 – Ikotka – Zagovor (SoundAge Production)
02:08:53 – Svederna – Hard (Carnal Records)
02:57:35 – Outro – Sorhin – "Skogsgriftens rike," fr. I det glimrande mörkrets djup, reissued most recently by Helter Skelter Productions (a top-shelf underground sublabel of Regain).
APPLE PODCASTS: https://podcasts.apple.com/us/podcast/terminus-extreme-metal-podcast/id1516219919
YOUTUBE: https://www.youtube.com/watch?v=-1imJ52NpR4
PODBAY: https://podbay.fm/p/terminus-extreme-metal-podcast
BLUBRRY: https://blubrry.com/terminus_extreme_metal/archive/?pi=1