In an effort to signal boost the greater cerebral symposium on extreme metal's culturally valuable nuance we present an inspired and thoughtfully achieved review-centered podcast via the Death Metal Guy and the Black Metal Guy: The Terminus Extreme Metal Podcast. Having caught my ear and thrilled my brains enough with their first wave of episodes, I've requested to feature their work in aeternum or until they tell me to fuck off. The format is conversational but quite detailed and episodes run from 2-3 hours long weekly formatted shows with review discussion and song clips alongside separate and intermittent 1-2 hour artist interviews. This first post brings to light their first sixteen episodes.
---
This week on Terminus, we continue reaping this fall's bumper crop of pagan black metal, punctuated by some extremely catchy brutal death. And it's one of those rare shows where we both really like every record!
We start by singing the praises of the new Macabre Omen, which easily transcends its unusual format — one vast but tightly-woven epic, plus a bunch of tracks from raw 90s demos and splits you almost certainly haven't heard. You'll hear missing links to the early Hellenic scene, strange relics of Nordic influence, and forays into psychedelic pastures — all still as bright as they day they were forged. After this sprawling, Bathorian segment, The Death Metal Guy leads us through Nihil Obstat's catchy, streamlined evolution of early-00s Colombian brutal death. The songwriting here is killer, and it's more like Greek black metal than you might think….
On Part II, it's all Slavonic spellcraft and Swedish steel. We start with a fan submission of sorts — the debut of Ikotka (Икотка), from the wilds of the Ural Mountains in northeastern Russia. Their actually-ritual summoning songs draw freely from Russian, Ukrainian, and Polish sounds, but don't really sound like any of them. Finally, we close with the return of Svederna, who don the grim hauberk of full-spectrum 90s black metal, striving for the title of Most Swedish Band of All Time. This is the chance The Black Metal Guy has been waiting for to sperg out about forgotten late-90s Svensk BM, and especially one of his all-time favorite bands.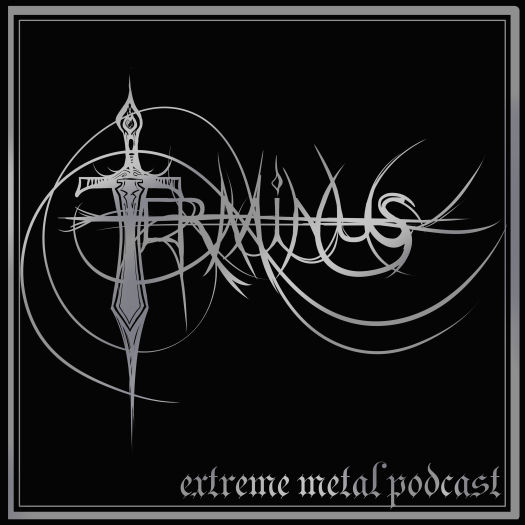 Terminus 35 – Vergeblichkeit, Haljoruna, Maquahuitl, Gates of Doom, Sagenland
–
TERMINUS: extreme metal podcast
"We invoke thee, Black Podcast of Chaos.We evoke thee, O mighty Terminus.Awaken now from your aeonic slumber – rise up from the abyss!Podcast of forgotten lore – let your Chaos rule forever more.Cohosts – Raise your double heads! Let your opinions…. rule again!"*And lo, we have answered your evocations, returned from the hoary winter's deep with a massive episode full of new ideas (!), common threads, jeremiads against hollow trends, and grandiose pronouncements about the future of black metal.To whet your palates for the new Ruins of Beverast, we begin with a highbrow Germanic solo project you probably haven't heard of — Vergeblichkeit. This is weirdly original music, like 80s goth rock built with "parts" from all over extreme metal, but structured in a way that draws your attention to the whole. It's music that takes time to digest, and you'll hear us getting more into it as the segment goes on.We pair that with the new full-length from Norse / Swedish folk-synth-black duo Haljoruna, in advance of its tape release on Old Mill Artifacts. The mood couldn't be more different from Vergeblichkeit, but there is a similar ambition at work. The Death Metal Guy waxes eloquent on Haljoruna's reconstruction of Scandinavian black metal from entirely new parts, and The Black Metal Guy frames it as an evolutionary adaptation to The Internet.In lieu of an interlude, we've crammed in a longer-than-intended mini-review of the new Maquahuitl EP. We play the lead song, "El Corrido de Gregorio Cortez," in its entirety. It's a short release, but a decisive moment in the history of USBM, and well worth your time.In Part II, we're back to somewhat more familiar waters. First, we check out of Gates of Doom, a stadium-sized melodic death/black band whose debut album tells the story of the Roman city Aquileia (located in their native north-Italian region of Friuli). There's obviously a lot to like about this album, but it awakens TBMG's hatred of the "polished melodic BM" trend, and he goes Full Metal Autist. Will TDMG be able to call him back from the edge of madness?We close out with a panoramic review of Oale Gruund, the debut by Sagenland, a (sort of) new band from the hart of the Dutch scene around Heidens Hart Records. Though TDMG really likes the riffs, he finds the songs as a whole difficult to get into. He voices his objections, TBMG voices his replies, and together we arrive at (what we think are) some pretty interesting ideas about musical "scale" and structure, and a better understanding of the Dutch sound as a whole.TL/DR we're back, feels good, check it out.00:00 – Introductory bullshitting09:30 – Vergeblichkeit – Die Almosen der Wunde (Independent)48:24 – Haljoruna – Haustblot (Old Mill Artifacts)**01:27:53 – Maquahuitl – Con Su Pistola en La Mano (digital and tape on Balamku / LP forthcoming on Goatowarex and Not Kvlt Records)01:55:27 – Gates of Doom – Aquileia Mater Aeterna (Cult of Parthenope)02:26:54 – Sagenland – Oale Gruund (Heidens Hart)03:10:37 – Thesyre – "The Cult of Victory," fr. Duality (CD by Selbstmord Services / LP by Blasphemous Underground Productions). FYI, this veteran Quebecois band is back from a decade-long break, and all their stuff is up on Bandcamp now (see album link).* Apologies to Dissection. R.I.C. Jon.** On the show we pronounce it "Hausblot" — we'd seen it spelled a couple different ways, but this is how it's spelled on the band's website.Terminus links:Terminus on YoutubeTerminus on PatreonTerminus on SubscribestarTerminus on InstagramTerminus on Facebookthetrueterminus@gmail.com
00:00 – Introductory bullshitting / social media plug / rundown of bands and labels
12:57 – Macabre Omen – Anamneses (Van Records)
55:56 – Nihil Obstat – Antimatter (Rotten Cemetery Records)
01:26:26 – Ikotka – Zagovor (SoundAge Production)
02:08:53 – Svederna – Hard (Carnal Records)
02:57:35 – Outro – Sorhin – "Skogsgriftens rike," fr. I det glimrande mörkrets djup, reissued most recently by Helter Skelter Productions (a top-shelf underground sublabel of Regain).
APPLE PODCASTS: https://podcasts.apple.com/us/podcast/terminus-extreme-metal-podcast/id1516219919
YOUTUBE: https://www.youtube.com/watch?v=-1imJ52NpR4
PODBAY: https://podbay.fm/p/terminus-extreme-metal-podcast
BLUBRRY: https://blubrry.com/terminus_extreme_metal/archive/?pi=1